Graduate School of Arts – Doctoral Course
Educational and Research Objectives
The objectives of this course are to train artists and researchers with the ability to shoulder the responsibilities of the next generation in both theoretical studies and creative work. The students are also expected to contribute to the field of art and culture at home and abroad through their advanced creative work and research.
Research Fields
Nihonga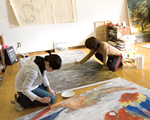 In the doctoral course, students set their own advanced creative themes, produce artwork, and pursue theoretical research. Students go beyond self-satisfaction, becoming aware of the presence of others, and they delve deeply into the social aspects of their work. Thus, the course can develop individuals with the ability to produce original Nihonga, establish a new sense of values, and play leading roles in the field of art and education with their advanced talents.
Painting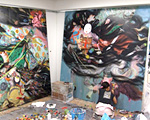 In this course, students research and produce artwork focusing on painting techniques and theory. They study the theory of painting expression and conduct high level research on the use of appropriate materials that can lead to a new world of painting.
Sculpture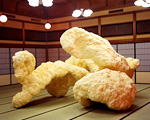 Students deepen their understanding of sculpture in both theoretical and creative aspects. They do theoretical research on spatial and three dimensional modes of expression and professionally pursue research on appropriate materials and techniques for the intended expression. Taking account of other elements concerning spatial and three dimensional functions, they create new ways of expression for sculpture. Through the pursuance of advanced professional research, students will be trained as leaders in the field of higher education.
Printmaking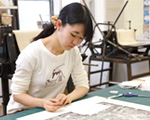 In this course, students produce prints through research on various techniques and theories of printmaking. While studying the unique way of expression "Print" offers, students also study, broadly and intensely, the various techniques in accord with their intended expressions, such as the use of digital devices to create new possibilities of "Print" expression.
Concept and Media Planning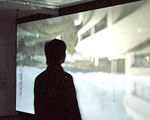 Students study the roles media should play in the field of art and the possibility of new ways of expression from broad points of view. The objective is to develop individuals who have the ability to carry out advanced research, possess rich fundamental academic knowledge, and have the ability to play leading roles in the field of higher education. At the same time, we encourage collaboration and joint research with other organizations.
Visual Design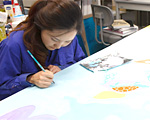 In essence, there is no difference between the doctoral, master's and undergraduate courses regarding visual design. In the doctoral course, the students create artwork and study advanced theories. However, they spend more time on theoretical study than in the master's course. Students design their own research theme based on past achievements in producing artwork. Guided more specifically by the faculty, they create artwork and write their thesis. They also explore, through research and art production, new ways of expression.
Environmental Design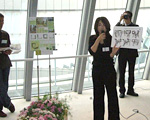 The aim of this course is to train researchers, who deal not only with the aesthetic aspects of spatial design, but also have the ability to articulate their social values in the context of theoretical discourse. Students are expected to contribute to society as leaders in the field of space and planning conceptualization and design.
Product Design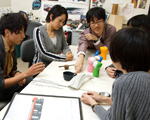 Students create artwork and study the theory of product design. They study the theories of design of various industrial products that relate to daily life. At the same time, they do practical research on design in industry, the public sphere, social welfare and culture.
Ceramics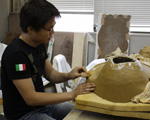 Students create artwork and study the theory of ceramic materials. Based on the study of traditional ceramic production methods, they do research on techniques from new points of view and develop new expressive abilities using a wide range of ceramic materials. As a result, they can create works that take full advantage of the current expressive possibilities of ceramics.
Urushi Lacquering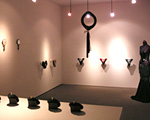 In this course, students create artwork and study the theories of Urushi lacquering. Based on the study of traditional Urushi production methods, they do comparative research on lacquering techniques, on the theories of the various expressive possibilities found in using Urushi lacquer, and they create contemporary work in Urushi lacquering.
Dyeing and Weaving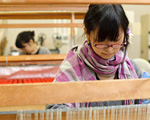 Students develop both theoretical and practical abilities in the fields of dyeing and weaving. Based on the study of traditional production methods, they study new techniques and mass production, explore the relationship of dyeing and weaving to society, and pursue both creative expression using a wide variety of fibers and theoretical study.
Industrial Crafts Design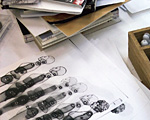 Students design with the form and aesthetic appropriate to local industrial activities. Based on theoretical study, they do research on the application of traditional craft design and decoration in commercial products. They also do creative research on craft design rooted in Kyoto and, more broadly, Japan.
Conservation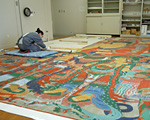 In this course, students study the theories and techniques of conservation and restoration, mainly of Japanese and Asian painting. The scientific researches for the conservation techniques and materials are also conducted through the program.
Science of Art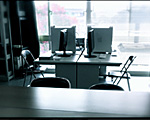 Students do theoretical research on arts focusing on artistic phenomena, history and the art environment. They also do research on the promotion of arts and advanced theory concerning various art forms.