Faculty of Music
Educational and Research Objectives
The objectives of the faculty of music are to develop highly skilled musicians and scholars through intense education and research in the art of music. A deepened sense of creativity is facilitated by this training, which places great importance on the personality of the individual.
Departments
Composition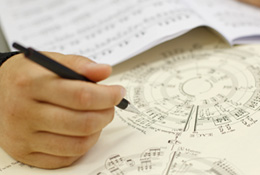 Composers create a wide range of work. There is no single idea that has been the same throughout the history of music. This is also true of the work of students at a music university. What they want to express in music is varied. This course aims at training individuals with a high level of musical skill and the ability to create unique work. And for the same reason, we encourage students to interact with a broad range of possible influences by pursuing the expressive possibilities of other fields.
Conducting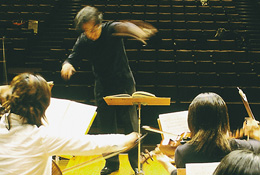 There are three educational purposes in this course.
To develop conductors who are ethical in both musical and human terms. In addition to learning conducting techniques, students are expected to focus on personal development as well.
To pursue serious research into the art of music. Students not only work on the improvement of conducting techniques, but should carry out a wide range of research on musical scores and instruments.
To contribute to society through their conducting. For example, music can be a powerful tool for healing people who have suffered through catastrophic situations, and students should seek ways of applying their musical talents to help people in such situations.
The development of outstanding conductors with a strong ethical and empathetic character is an important element of this course.
Piano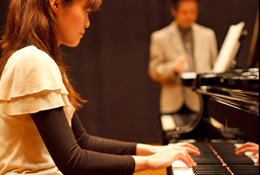 Students are expected to acquire the basic knowledge techniques and skills necessary to understand classical composition, theory, drama, emotion and artists' intention as well as aesthetics. To be an excellent "interpreter" of the works of the great composers of the past, one needs to possess great powers of imagination and strong intuition and vision along with the highest level of technical command. We encourage all students to achieve these by diligent day-to-day practice and to have a strong sense of purpose, which prepares them for their life-long quest toward the musical ideal.
Strings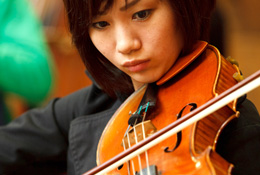 The objective of this course is to develop musicians with the ability to contribute to society. Students have to interpret various musical works by themselves, deepen their understanding, and think about the methods of playing so as to become able to express the true beauty of musical works. Therefore, in the first two years, students will focus on basic abilities, such as playing techniques and the methods of expression. In the last two years, they are expected to achieve advanced playing techniques and expression, and advanced techniques needed for group performance in every field of music, as soloists and as members of chamber ensembles and orchestras.
Brass, Woodwinds and Percussion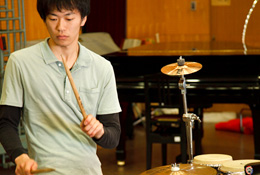 The aim of this course is to develop specialists of winds instruments and percussion who have a deep sense of musical color, "a pallet of sounds". Winds instrumentalists and percussionists are expected to have the talent of soloists even as they are members of orchestras. The course provides students the opportunities to reach maturity as responsible musicians. Students are expected to acquire a deep sense of the tone produced by a particular instrument and to gain a broad knowledge of music, from Baroque to Avant-garde, as well as the techniques necessary to play musical instruments. Students are trained in such a way that they acquire the ability to perform as soloists, as well as the skill of adapting themselves to perform in orchestras and ensembles.
Vocal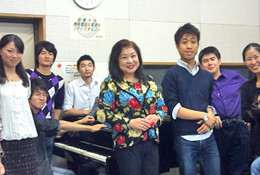 This course deals with voice. In this case the body acts as the musical instrument. During their four years of study, students learn how to produce their voice. Through individual tutoring, they also learn resonance, methods of breathing and vocalism that follow from an understanding of the instrument – the body. At the same time, personal development and a healthy emotional outlook are very important because the emotions and characteristics of the singer are easily reflected in their performance through their bodies. Another feature of this course is to deal with scripts written in many foreign languages. The course trains students to understand the deep meaning of the scripts and pronounce them correctly so that they will be prepared to perform on the international stage.
Musicology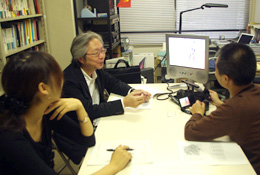 Musicology covers research about every field related to music. This includes music pieces, sound, acoustics and related academic research. Today, the world of music is undergoing a great and rapid diversification. Not only western music, but also ethnic, popular, Japanese, contemporary, ancient and various other kinds of music, sound, and acoustics; such as environmental sound, noise, and electronic sounds, coexist, influencing each other and developing together. One objective of this course is to train individuals who can cope with the diversity resulting from the globalization of contemporary musical culture. With this in mind, four faculty members with different professional domains focus on western music history, contemporary music theory, ethnomusicology and acoustical/musical psychology. Another objective is to develop musicians with a wide-ranging intelligence based not only on the knowledge of music but also on practical experience and the ability to play active roles in various fields. The course also intends to create an environment where students with different themes can stimulate each other and work together.